I do not write much non gaming here, but due to recent events in my country am going to break from that mold.
I am a very proud Canuck. So proud, in fact, that I actually tell you that – it's a bit rude to be over nationalistic so typically I just wear my Captain Canuck t-shirt and give invisible toque-tips to other maple leaf wearing, hockey watching, (insert other Canadian stereotypes here) Canadian brethren. At some point in my opening sentence I need to say sorry, because that's just what we do.
Posts with the word Canadian in it make me smile, because it's a rarely used selling point.
Canada is not a very violent society. Sure, I was shooting guns at 9 years old (hunting with Grandpa) and our Special Forces (JTF2) are one of the few that can do missions with the tier 1 USA special forces. Our law enforcement officers have only shot and killed 52 people since the 1930s to date. We tend to be polite and friendly – those sterotypes are true. We care for our sick, accept that people are (and should be) different, and overall is a society that is one of the best in the world to live in. Yes, we can always be better – as can all of the socities and countries  of the world – but we are definitely on the right path.
So, when this happens, its weird for us. Foreign. That kind of hate, and senseless killing, is rare. We still don't fully understand why, but it has gripped our country. Leo talks about it here very well and he is an Ottawa native. I live an hour and a half away in Kingston, but we go to Ottawa often. I am not here to report on the event itself, but rather share something that is the result of it.
I was in San Diego all last week for a conference and I was surprised to see how well this event was covered in the USA media (we tend to see very little Canadian news when visiting the USA) so I was thankful for the reporting.
The most important link is this one – the soldiers body was transported to his home town from Ottawa along Ontario's longest highway, the 401, otherwise known as Highway of Heroes. That link is a published list of the route for the transport, and estimate times that the body will be passing by overpasses and towns as it goes.
The reason why the route is published in advanced, is that Canadians will line the highway, especially the overpasses, to pay tribute. This has happened a lot over the past few years with Canadian supporting peace efforts all over the world, and it is a common route to transport the fallen due to the Trenton base along the highway. I live in between Ottawa and Trenton so have witnessed this. Here is a link to some nice photos, some good ones I am going to cut and paste outright. It really drives a lot of emotion to witness Canadian citizens lining the overpasses of the highway, thousands of them just there to show respect.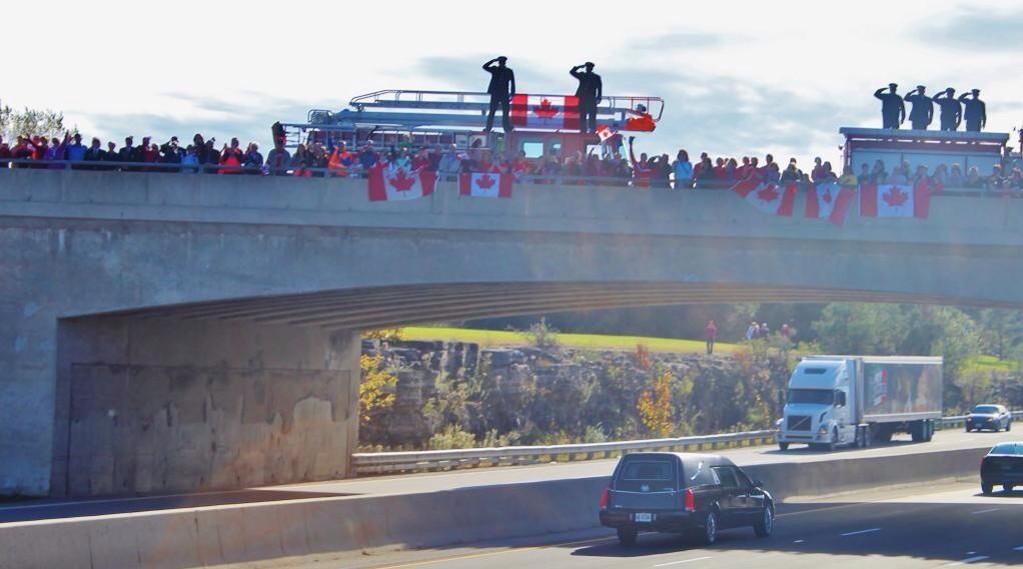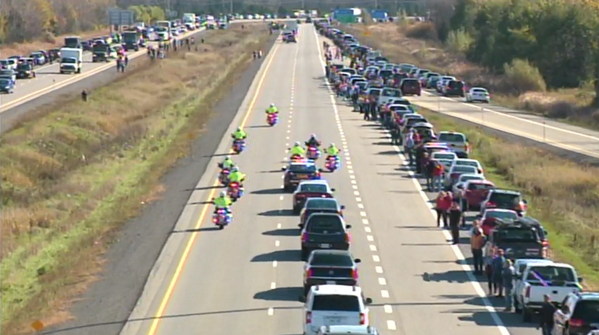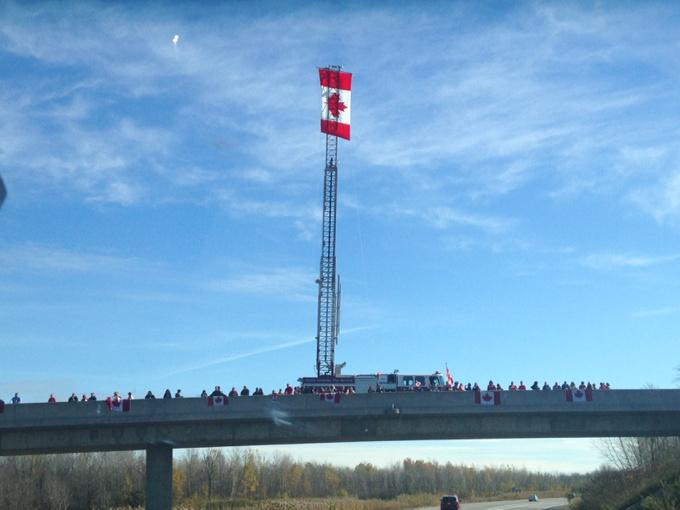 This is common when our soldiers die. The fact this happens often is a point of pride and sadness at the same time, because you need one terrible event to have the good one.
Here is a picture of Cpl. Nathan Cirillo.
May he rest in peace.